Hilton Garden Inn San Antonio At The Rim
---
A block of rooms have been reserved for May 8, 2016 – May 14, 2016. The special room rate will be available until April 30th or until the group block is sold-out, whichever comes first. Booking a reservation is simple. To begin the process, click on below to receive your group's preferred rate.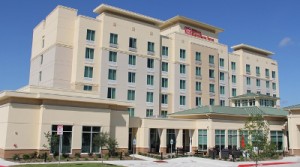 5730 Rim Pass
San Antonio, Texas 78257
USA
Tel: +1-210-696-3500
Fax: +1-210-696-3503
Getting to San Antonio by plane
---
The San Antonio airport is the destination airport for the workshop.  It is located in the heart of San Antonio and its airport code is SAT.  The airport is served by American, Delta, United, Alaska, US Airways, Southwest and Aeromexico airlines.  There are direct flights from San Antonio to DFW, LAX, MIA, ATL, ORD, DEN, SFO, SEA, Washington Dulles and other major hubs.  The closest major international transit point is Dallas Fort Worth airport (DFW) which is a 45 minute flight to San Antonio and American Airlines primary hub.  DFW is ideally located in the middle of the U.S. and has a large number of direct flights to Europe and Asia.
The official hotel is the Hilton Garden Inn at the Rim shopping center.  The address is 5730 Rim Pass, San Antonio, Texas, 78257, +1-210-696-3500 FAX: +1-210-696-3503 and is located in the Rim shopping center.  While you can reach the shopping center by public bus, it requires two transfers and so only for folks who want to go very cheaply (www.viainfo.net for bus info).  There are also car rental facilities at the airport.  Note that the traffic in San Antonio during rush hour can be challenging, however, Texas drivers are generally much more courteous and polite than you might find elsewhere.  The distance from the airport to the hotel is 12 miles and takes about 20 minutes.  A taxi is the fastest way from the airport to the hotel and costs about $40 USD, so I would advise connecting up with others and sharing a taxi.  The hotel is about 3.4 miles or 9 minutes by car from the UTSA venue.